How we are organized
Page content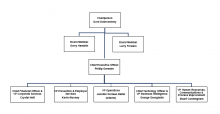 Accordion content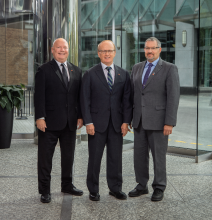 (From left): Garry Hamblin, the WCB's worker representative, Gord Dobrowolsky, the WCB's chairperson, and Larry Flowers, the WCB's employer representative.
The WCB has a three-person board consisting of a chairperson and two board members. Each is appointed by the provincial government. The board members are appointed after consulting with business and labour organizations. One board member is appointed to bring the viewpoint of employers to the board, and one is appointed to bring the viewpoint of workers.
Chairperson: Gord Dobrowolsky
The WCB's chairperson, Gord Dobrowolsky, was appointed in 2013. From Prince Albert, Gord obtained his bachelor of education from the University of Saskatchewan and taught for five years before going into business. He operated Delta Management Ltd., a public relations and marketing company, for six years and spent 14 years in the cellphone industry, during which he earned SaskTel's Top Dealer award nine times.
Gord has extensive board experience, having served as the vice-chair of the Saskatchewan Liquor and Gaming Licensing Commission, been a member of the Saskatchewan Executive Council for six years and the chairperson of the Prince Albert Parkland Health Region for four years, beginning in 2009.
In addition to pursuing ongoing director and adjudication training, Gord has completed his certificate in adjudication for administrative agencies, boards and tribunals from the Osgoode Hall Law School of York University and has received his professional director designation from the Johnson Shoyama Graduate School of Public Policy.
Gord was a volunteer board member of the Victoria Hospital Foundation in Prince Albert for six years. He is currently a member of the Prince Albert and District Chamber of Commerce, the Prince Albert Elks Club and the Prince Albert and Saskatchewan Wildlife Federation. He is a supporter of Special Olympics. In 2014, SaskBusiness named him one of Saskatchewan's Men of Influence and in 2015 he was named to the Wall of Honour by the College of Education at the University of Saskatchewan.
Garry Hamblin was appointed the WCB worker representative in 2015. Garry has a Canadian Insurance Professional designation and worked for 27 years at Saskatchewan Government Insurance (SGI). Over the course of his career, Garry participated in hundreds of mediations and appeals within SGI's no-fault system. He has brought to the board his strong knowledge of the insurance industry and his experience in helping people to access benefit entitlements and understand legislation and policy surrounding their unique situations.
He is a past president of the Canadian Office and Professional Employees Union, Local 397 and is a board member of Conflict Resolution Saskatchewan Inc. Garry received his certificate in adjudication for administrative agencies, boards and tribunals from the Osgoode Hall Law School of York University in 2016 and in 2017 he completed the ICD – Rotman Directors Education Program. He continues to pursue ongoing governance and adjudication training.
Larry Flowers was appointed the WCB employer representative in 2015. Larry brings strong and varied business experience to the board, which includes work in the agriculture, manufacturing, mining, finance and non-profit sectors. Since 1989, Larry has worked as both an internal and external business strategist, implementing strategic human resources, training, safety and business solutions. Larry has a bachelor of education degree and a business administration certificate from the University of Saskatchewan. He holds a certificate in adjudication for administrative agencies, boards and tribunals from the Osgoode Hall Law School of York University, and also completed the ICD – Rotman Directors Education Program. He is currently pursuing his masters of adult education through St. Francis Xavier University, while also pursuing ongoing training relevant to his governance and appeal responsibilities on the board.
Larry has a Chartered Professional in Human Resources (CPHR) designation and is a member of CPHR Saskatchewan, where he has served on the professional development committee. He has also served as a governance committee board member with the Saskatoon Industry Education Council and has held a number of other volunteer board positions. Larry has chaired the Saskatchewan Mining Association's human resources committee and was a member of the International Mining Innovation Institute's Education and Training Panel, as well as the Saskatchewan Institute of Applied Sciences and Technology (SIAST) Mining Engineering Technologist Advisory Panel.
Our board believes that a strong governance framework is necessary to ensure that it fulfills its responsibilities to workers and employers in the most effective manner. As a result, our board is committed to ensuring that its governance structures and activities reflect sound governance principles.
Our board decides our broad strategic imperatives. It also makes certain that our operations and financial performance have the proper oversight. This requires board members to:
Provide long-range objectives and policies.

Recommend legislative change to the provincial government.

Safeguard the WCB's resources and assets.

Monitor the WCB's performance.

Report to stakeholders.

Hear and decide final appeals on employer classifications or injured worker compensation and benefit decisions.
The CEO manages day-to-day operations through a five-member executive team.
Operations:
Prevention and employer services
Strategic finance and corporate services
Strategic finance

provides stewardship of financial resources including investments to ensure adequate funds are available to meet WCB obligations and strategic objectives.

Corporate services

provides payments to health care providers, purchasing of goods and services, and processing of incoming information. The vice-president of corporate services is also responsible for the management of the WCB facilities.

Actuarial services

 is responsible for the financial forecasting, claims costs and insurance risk which feed into employer premiums.

Legal services

 provides legal advice and support throughout the organization.
Information technology services and business intelligence
Information technology services

 provides business focused IT services and support to address current and upcoming opportunities and risks through reliable and suitable technology solutions.

Business intelligence

 

consolidates data management and reporting processes to ensure relevant and reliable information is provided to internal and external stakeholders.

Administrative services

 provides payments to health care providers, collection of past due accounts, purchasing of goods and services, processing of incoming information and process improvement.
Human resources, communications and CPI
Human resources

 

manages recruitment and development of WCB staff, employee relations, as well as employee compensation and benefits. Additionally, human resources is responsible for

employee health and safety.

Communications

is responsible for internal and external communications,

media relations

and

event management

.

Appeals 

provides first level of appeal for decisions on claims.

Continuous Process Improvement (CPI)

is an internally focused department that works across the organization to establish service standards and expectations for all positions and to enhance our culture of service.
Other WCB departments