Premium rates and how they're set
Page intro
Learn about the premium rates you pay to the WCB, how premium rates are determined each year and the current year's premium rates and industry statistics.
Page content
Text
What are premiums?
Premiums are the funds needed to cover the cost of WCB benefits and services that are collected from registered employers. Employers' premiums go into an injury fund, which goes toward:
Providing

earnings loss benefits

to workers injured on the job who are unable to work as a result of their injury;

Providing

medical aid and rehabilitation

to workers injured on the job; and

The general administration of the WCB, which includes costs to run the compensation system, adjudicating claims and developing prevention and safety initiatives.
How are premium rates set?
Workers' compensation is a no-fault insurance system based on collective liability, where all employers share liability for workplace injury insurance. Employers are grouped together to form an industry rate code. Premium rates are set for each rate code based on the collective claims experience of employers within each industry rate code. All employers within an industry rate code start with the same industry premium rate. 
Premium rates are determined using two key components: claims costs and payroll.
Claims costs are affected by an employer's injury rate and duration. The costs associated with workplace injuries that have occurred in the past help us project what future claims costs will be.
Payroll is the second component that factors into the determination of premium rate calculation. Payroll is collected for all workers in all industries subject to coverage under The Saskatchewan Workers' Compensation Act, 2013 up to the maximum assessable amount per worker.
The rate setting process ensures today's employers pay for the costs related to today's claims. Premiums collected in a rate year cover the lifetime costs associated with the claims that happen in that year.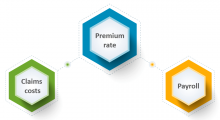 An actuarial rate model is used to determine annual industry premium rates

The model projects expected claims costs for upcoming year

Industry premium rate = costs/payroll
2021 premium rates
Text
Rate
code

Rate code
description
(PDF)

2021
industry
rate

A11
Light Agricultural Operations
2.44
A21
Farming and Ranching
1.52
A31
Grain Elevators and Inland Terminals
0.62
B11
Construction Trades
1.65
B12
Residential Construction
2.54
B13
Commercial, Industrial Construction
1.83
C12
Light Commodity Marketing
0.62
C32
Grocery, Department Store, Hardware
1.03
C33
Wholesale, Chain Stores
1.53
C41
Co-operative Associations
1.12
C51
Lumber Yards, Builders Supplies
1.78
C61
Automotive and Implement Sales and Service
1.00
C62
Automotive Service Shops, Towing
1.49
D32
Operation of Oilwells
0.45
D41
Oilwell Servicing
1.31
D51
Service Rigs and Water Well Drilling
1.44
D52
Drilling
1.44
D71
Open Pit Mining
0.87
D72
Underground Softrock Mining
0.66
D73
Underground Hardrock Mining
0.76
G11
Post-Secondary Education
0.36
G12
Elementary and Secondary Education
1.23
G22
Health Authority, Hospitals and Care Homes
1.64
G31
Cities, Towns, Villages and Rural Municipalities
1.36
G51
Government of Saskatchewan and Ministries
1.16
M31
Manufacturing, Pipeline Operations
0.47
M33
Refineries and Upgrader
0.66
M41
Dairy Products, Soft Drinks
2.19
M42
Bakeries, Food Preparation and Packaging
1.34
M62
Mills, Semi Medium Manufacturing
1.82
M72
Processing Meat, Poultry and Fish
1.93
M81
Metal Foundries and Mills
1.62
M91
Agricultural Equipment
1.34
M92
Machine Shops, Manufacturing
1.42
M94
Iron and Steel Fabrication
1.80
R11
Road Construction and Earthwork
1.62
S11
Legal Offices, Financial, Drafting
0.17
S12
Offices, Professionals
0.29
S14
Unions (Premium assessed on per delegate basis)
6.00
S21
Community and Social Services
1.18
S22
Restaurants, Catering, Dry Cleaning
0.89
S23
Hotels, Motels, Taxis
1.68
S32
Personal, Business and Leisure Services
1.22
S33
Caretaking, Park Authorities
1.31
S41
Engineering, Testing and Surveying
0.37
T42
Transportation, Courier, Commercial Bus
3.03
T51
Operation of Railways
1.03
T61
Commercial Air Transportation
0.87
U11
Telecommunications
0.43
U31
Electric Systems
0.48

BOARD LEVEL

 
1.17
Contact
For specific inquiries
If you are:
ready to register your business
requesting a clearance or a letter of good standing
revising or updating your payroll
discussing your statement of account and/or making a payment
Employer services department
Contact us
For general inquiries, please contact us.
Claim information
For questions on your worker's injury claim: